Lebkuchen, a holiday tradition
Lebkuchen were one of the most anticipated and treasured traditions for our family Christmas. My mother usually made two batches of about 50 and they never lasted long enough to get stale. The recipe is from my GG Aunt Mary Dutcher Field (1848-1929). Besides this recipe, another item of note about GG Aunt Mary was that she was the granddaughter of Isaac van Wart, one of The Three Patriots who stopped Major Andre and discovered that he was carrying the military plans for the defense of West Point from General Benedict Arnold to the British. This very fortuitous event likely prevented the British from dividing the Colonial Army, holding the Hudson, and winning the Revolutionary War. 
Here is my annotated version of my GG Aunt Mary's Lebkuchen recipe, which you are free to share:
1 cup ground unblanched almonds
4 ounces citron
1 lb dark brown sugar (about 2 cups, packed)
2 cups flour
1 tsp cinnamon
1 tsp cloves
1/2 fresh nutmeg, grated (I cheat and use 1/2 tsp nutmeg)
5 eggs (hold out 1 egg white for frosting)
Mix the flour and spices.
Blend together the citron, almonds, and a cup of the flour/spice mixture in a power grinder. (Note: it is easy to grind the almonds. It is VERY hard to grind the citron due to its gooey nature, so this is best done in blender with some dry ingredients. It doesn't really matter which ones.)
Blend the brown sugar and the eggs and add to the citron-almond mix.=
Add the remaining flour and eggs
Blend until a thick paste. It will be thick and you will despair of spreading it. If it is too thick, add an egg. If you add water, add very, very little.
Spread on well greased foil in a cookie pan, using a flat metal instrument like an offset spatula. This is a challenge as it is sticky.
Bake at 325 for 30 minutes. Do. Not. Over. Cook. Chewy is the goal and they go from perfectly chewy to concrete in 3 nanoseconds. (Unless you want construction materials.)
Mark deeply in ~ 2" squares with a sharp knife while warm and soft. (Deeply to make it possible to separate them later.)
Make your frosting (the following amounts are very approximate) by blending together:
~2 cup confectioner's sugar
1/2 - 1 tsp milk or water
(Some recipes add clear vanilla extract for 1/2 the milk or water.)
1 egg white 
Add small amounts of milk or water if it is too dry to easily spread.
Frost while warm and allow to dry about 3-5 minutes in a warm but not hot oven.
Peel off the aluminum foil as you cut them into squares. Store in an air tight container with wax paper between layers so they do not stick together or dry out. (In our family, they never last long enough to dry out...)
The tray just after drying the frosting and before cutting up: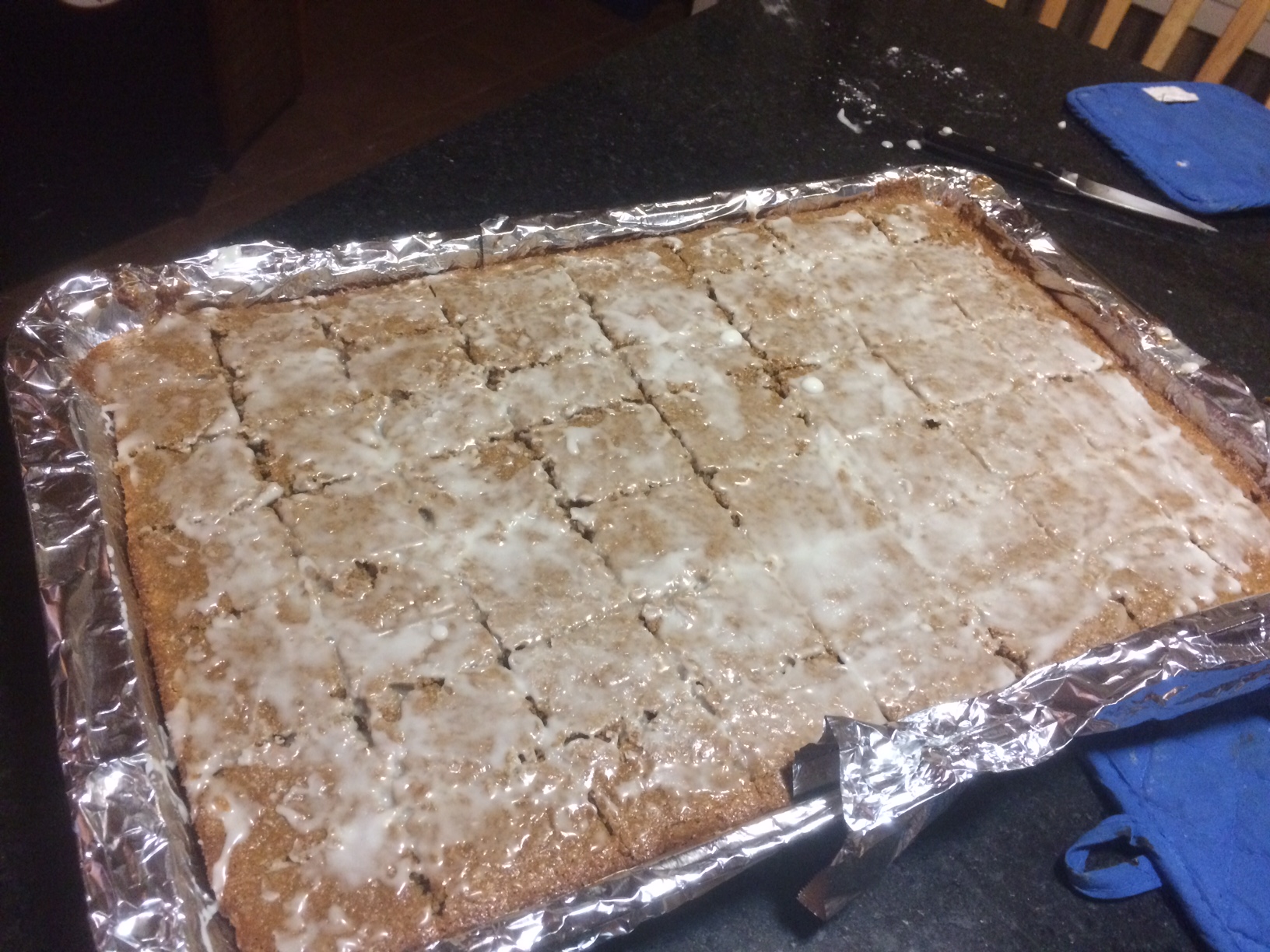 Edge-on view as I am removing the foil and cutting into squares: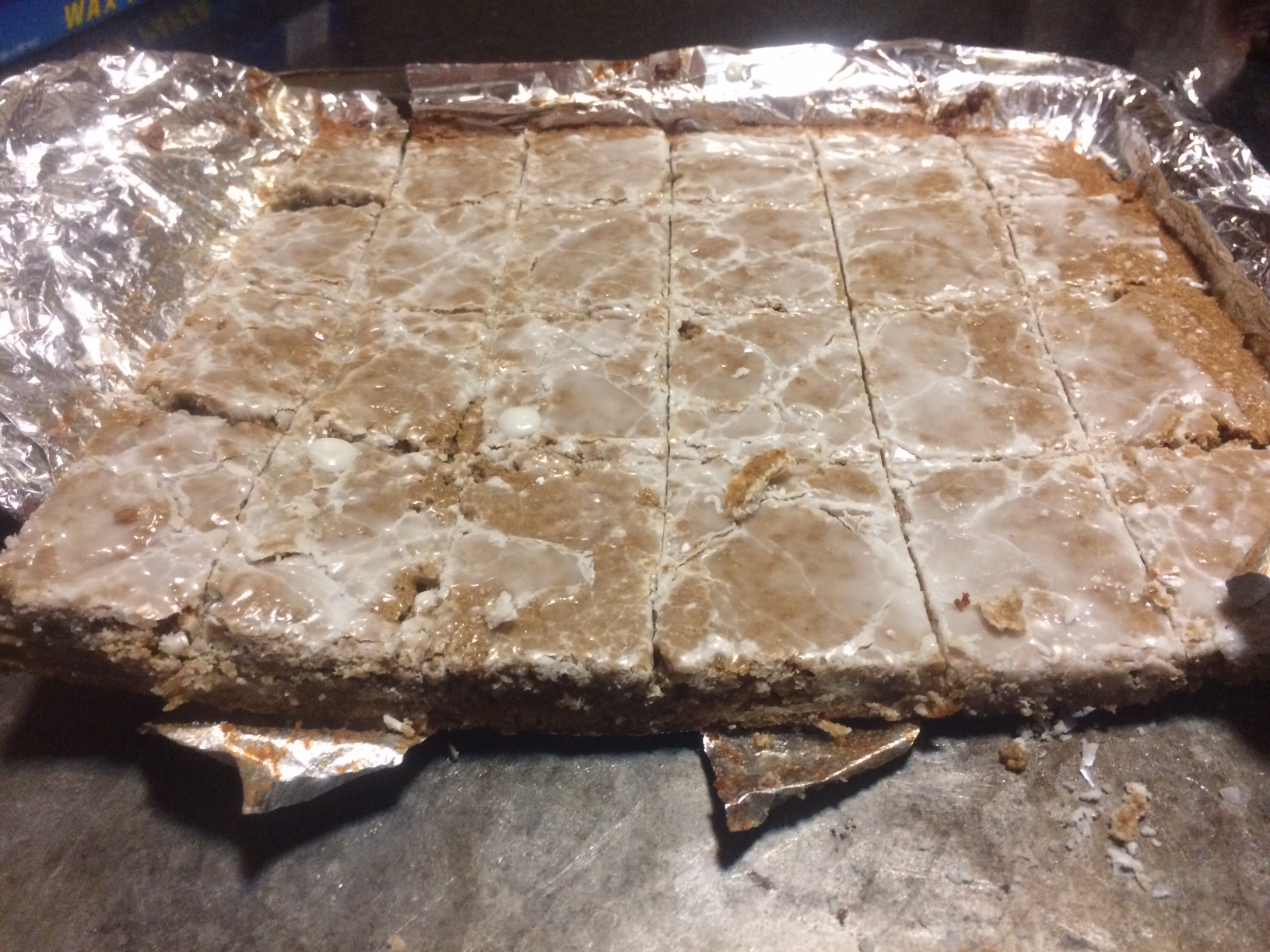 Lebkuchen being packed to take to Vermont for Christmas...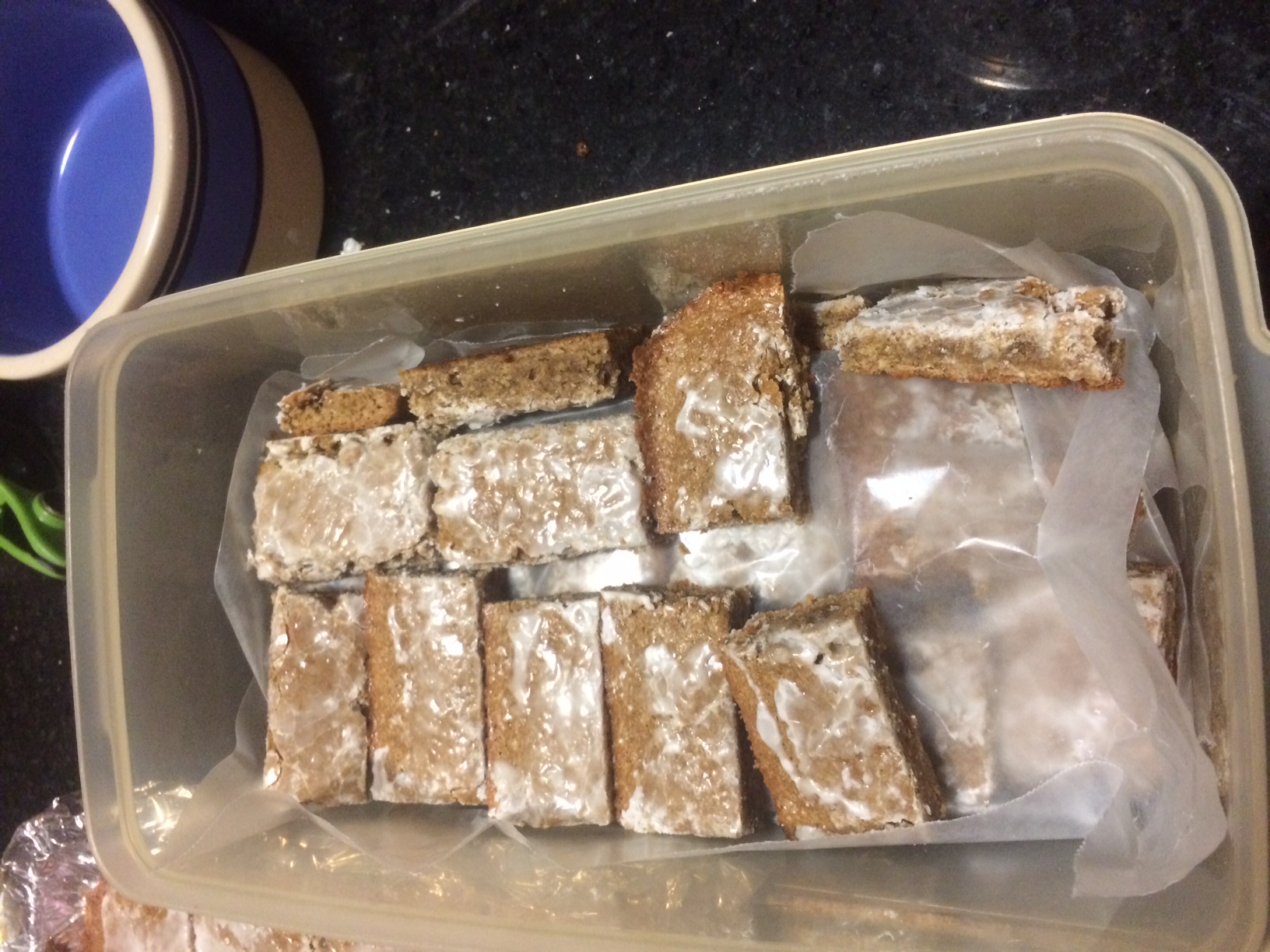 Mahlzeit. 
---
Links to more on this topic::